Shopping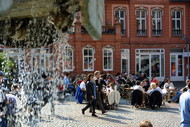 Bingen's quaint town centre is always full of life. With its many small department stores, specialist shops, boutiques and markets, the pedestrian area is a great place for a stroll or a spot of shopping. Fine wines make a superb souvenir to remind you of the pleasures of Bingen when you're back at home.
Pedestrian area
A stroll through Bingen's lively old quarter is always a delight. The quaint pedestrian area, made up of Basilikastrasse, Speisemarkt, Rathausstrasse and Salzstrasse, has a colourful mix of many small stores selling a variety of goods such as shoes, perfume, jewellery, clocks and watches, tea, outdoor leisure equipment and photographic accessories.
Market
The market is held on Wednesdays and Saturdays on the Bürgermeister-Neff-Platz square and has an incredible selection of fresh regional produce. A great place to stroll around, browse and try before you buy!
Top of page
Map of Germany
Map showing all of Germany's TOP travel destinations...
Click here!
Search in surrounding area