Suggested excursions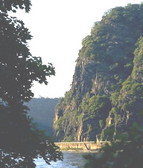 The area around Bingen is known for its viniculture and for epitomising the romance of the Rhine. Two popular scenic routes follow the course of Germany's longest river and Bingen is the ideal base from which to explore both. The Rhinegold Route and the Rhine Legends Route run through the Upper Middle Rhine Valley UNESCO World Heritage site. Other places well worth a visit include the Loreley, wine-growing towns and villages like Rüdesheim and Assmannshausen, and the cities of Mainz and Koblenz.
Rhine Legends Route
The Rhine Legends Route is a themed route that runs for 586 kilometres between Mainz and Düsseldorf on the trail of Germany's most famous and beautiful stories. Explore their settings and discover the past with its exciting myths, tales and legends.
Loreley Valley
A steamer trip through the Loreley Valley is an absolute "must", especially at night when you can enjoy music and dance against a backdrop of romantically illuminated castles. Discover the magic of the legendary Loreley rock, romantic winegrowing villages, enchanting castles and, of course, Germany's most beautiful river - the Rhine.
Assmannshausen
Germany's largest single area of pinot noir vineyards, the charming village of Assmannshausen (7km away) is well worth a visit. One of Germany's finest red wines is produced here, and visitors will have plenty of opportunity to sample it. From here, you can see the medieval Rheinstein Castle sitting in splendour on the opposite side of the Rhine.
Top of page
Map of Germany
Map showing all of Germany's TOP travel destinations...
Click here!
Search in surrounding area