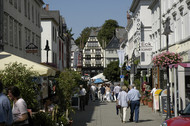 Individuality and vivacity are the hallmarks of the boutiques, galleries, antique stores, specialist shops, craft shops, cafés and bars in the lanes and squares of the picturesque medieval old town in the shadows of Limburg cathedral.
Browsing and shopping in Limburg's magnificent medieval old town
Stopping to admire an ornately decorated, hundred-year-old gable, you're likely to stumble across a beautiful boutique or a craft shop. Glancing down one of the winding streets filled with little shops, you might discover it leads to a square full of cafés and bars. This is what makes shopping in the shadows of the famous Limburg cathedral so uniquely appealing.