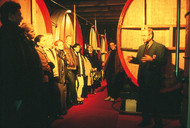 Hardenberg hill with its castle ruins is the most notable landmark in Nörten-Hardenberg. The most famous product to come out of the town is the schnapps made at the Hardenberg distillery.
Schnapps and spirits
The Hardenberg schnapps distillery has a history that stretches back more than 300 years and is inextricably linked with this region where schnapps is a very popular drink. For a long time now, the distillery has been producing a wide selection of other spirits in addition to its famous
Korn
(wheat schnapps). The entire product range can be purchased at the shop, along with a number of seasonal gift items.