Giengen an der Brenz - Other areas of interest
Top of page
Nature & greenery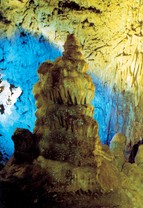 Giengen an der Brenz is off the beaten tourist track, surrounded by the Swabian Alb, with a variety of calm, natural environments, offering visitors a wide range of activities. These provide the ideal setting for wonderful walks, relaxation and sporting endeavour. The nearby Danube valley is an enchanting idyll that time forgot.
The Danube valley
To take a trip down the Danube is to travel back through Europe's history. This extraordinary river, Europe's second longest, has provided a conduit for the people and cultures of Europe through the ages. Stone-age hunters and Roman legionaries, kings and emperors, rich patricians and medieval merchants have all left their mark. Over time, beautiful towns and cities with an astonishing variety of cultural attractions have grown up along the river's banks.
The Brenz valley
A journey into the Brenz valley gives visitors a chance to experience geological and archaeological wonders from a long-forgotten era. Meteor craters, fossilised coral reefs from a Jurassic ocean and ice-age caves all serve to illustrate geological history. This wonderful landscape with its forests, meadows and bizarre cliff formations is a fascinating area to explore on foot. For cyclists, the Brenz valley cycle path provides a particularly attractive route through the area.
Charlottenhöhle cave
Charlottenhöhle is 587 metres long – one of the longest show caves in southern Germany. The cave was discovered in 1893. Its original inhabitants were bats and cave bears. Charlottenhöhle was named in honour of the reigning monarch, queen Charlotte of Württemberg. The cave will amaze visitors with its magnificent dripstone formations.
Top of page
Map of Germany
Map showing all of Germany's TOP travel destinations...
Click here!
Search in surrounding area