Giengen an der Brenz - Other areas of interest
Top of page
Museums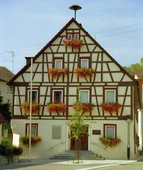 The Steiff teddy bear is famous the world over, not least for its "button in the ear" quality mark. Giengen an der Brenz is home to this famous bear. The World of Steiff relates the 125-year story of these famous soft toy animals. The municipal museum offers an interesting insight into the region's history, which stretches back more than a thousand years.
Margarete Steiff Museum
The legendary teddy with its "button in the ear" was born in 1902. This captivating interactive museum extends over three floors and takes visitors of all ages into a fantastic world. Every day, the demonstration workshop produces original Steiff toys in the traditional manner. It all adds up to an unforgettable experience for the whole family, and a trip down memory lane for many visitors.
Municipal museum
The municipal museum in Giengen an der Brenz provides a comprehensive overview of the region's history, which spans more than a thousand years. Visitors can examine a collection of fossils and an anthropology section comprising exhibits up to 7,500 years old. The cultural heritage section includes a clock-face maker's and a brush maker's workshop and a traditional general store dating from 1904.
Top of page
Hotel search

Looking for an accommodation?
Search and book hotels in Germany »
Map of Germany
Map showing all of Germany's TOP travel destinations...
Click here!
Search in surrounding area