Giengen an der Brenz - Other areas of interest
Top of page
Suggested excursions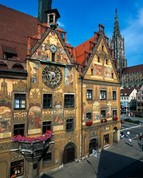 The area surrounding Giengen an der Brenz is a tempting treasure trove of historical towns and cultural gems. The region's particular highlights include Ulm, with its acclaimed minster, Günzburg for Legoland® and Heidenheim for Hellenstein Castle.
Ulm
Only about 36 km from Giengen an der Brenz is the lovely Danube town of Ulm. Its famous minster has the tallest church spire in the world: no wonder this is the town's most famous landmark. Visitors will also find interesting sights, shopping streets, museums and theatres to explore.
Günzburg
Günzburg has more to offer than just Legoland®, although it would be worth the trip just to see the many miniature Lego reproductions of famous sights. Other attractions in the old town include Günzburg castle, the town tower, the octagonal Kuhturm tower and the Church of Our Lady.
Heidenheim
Heidenheim is easy to get to from Giengen an der Brenz. The former town hall, the "Elmar Dolch house", is certainly worth a visit. Hellenstein Castle and the churches of St Paul and St Michael are also very interesting. Lovers of art and culture will enjoy the museums and the Heidenheim opera festival.
Top of page
Map of Germany
Map showing all of Germany's TOP travel destinations...
Click here!
Search in surrounding area