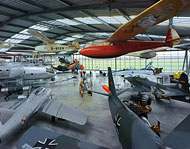 German Emigration Centre, Bremerhaven

Located at the original embarkation site, the Emigration Centre in Bremerhaven shows what it may have been like for people leaving their homes behind and seeking passage overseas from the port some 150 years ago.
Zeppelin Museum Friedrichshafen

In the former harbour station visitors experience the history of dirigibles from close up. The main attraction is a 33 m partial reconstruction of LZ 129 "Hindenburg" true to original blue prints.
DB-Museum Nuremberg, Halle, Koblenz
Three collections of the railway museum illustrate 170 years of German railway history. With over 150 vehicles at three locations it is Germany's most important collection of railcars.
German Museum Munich

More then 1.5 million visitors per year are captivated by 60,000 exhibits and precious originals of the world's biggest scientific and technological museum.
Auto & Technik MUSEUM SINSHEIM

On a surface of 7.5 acres more than 3,000 exhibits wait for you. Special highlights: the original Air France CONCORDE, the "Russian Concorde" Tupolev TU-144, veteran cars and motor bikes.