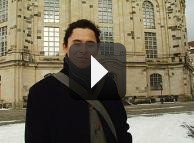 Zwinger Palace enjoys widespread fame as a baroque masterpiece and is a legacy of Dresden's distinguished history as a royal seat. Richly decorated pavilions and galleries surround majestic Festplatz square and together with the charming fountains form a picturesque backdrop.
Triumph of Saxon baroque
Zwinger Palace's ensemble of pavilions and galleries is an unrivalled masterpiece of the courtly baroque style, combining opulent sculpture with magnificent architecture to spectacular effect. Originally built as an orangery, the building was used for entertaining by the Elector of Saxony, Augustus the Strong, and was the setting for extravagant festivities. Highlights include a pavilion with a carillon made from Meissen porcelain, the Rampart Pavilion with its bizarre sculptures, the Mathematics and Physics Room and the porcelain collection. The Old Masters Gallery houses world-famous artworks, the finest of which is the Sistine Madonna by Raphael.