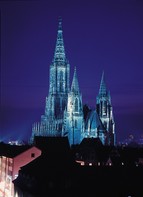 The Gothic Minster with its gigantic west steeple is the dominating feature in the centre of Ulm. The town's most famous landmark, it is also known far and wide for having the tallest church tower in the world.
The world's tallest steeple
The building of Ulm Minster was originally financed entirely by the people of the town. It is the second-largest Gothic church in Germany after Cologne Cathedral, and in the Middle Ages this monumental place of worship used to accommodate more than 20,000 church-goers. Its enormous west steeple, the tallest in the world, rises an impressive 161 metres into the sky. It was added to the basilica in 1890, after a long period without further building, making the church famous around the world. If the weather is fine, you can see as far as the Alps from its observation platform.