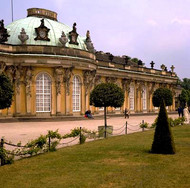 Over a period of more than three centuries, the rulers of Brandenburg and Prussia commissioned the finest artists of the age to create a stunning ensemble of palaces and parks for the royal city of Potsdam. Sanssouci Palace and Park are the best-known and most beautiful of these.
Paradise of the Prussian rulers
Five expansive parks, countless palaces, temples, churches and summer residences form a unique arcadian landscape on the banks of the Havel river. The highlight of this ensemble created by Frederick the Great and his descendents is Sanssouci Palace. Characterised by its baroque and rococo architecture, this playful, extensive one-story summer residence overlooks six vineyard terraces. The largest 18th century building in Sanssouci Park is the New Palace, a triple-winged baroque residence decorated with more than 400 sandstone statues. Other highlights include Charlottenhof Palace and the Orangery as well as the Marble Palace and Cecilienhof House in the New Gardens.