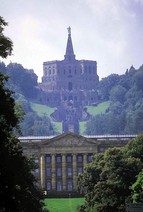 An impressive succession of cascades is the defining feature of this upland forest park, the only one of its kind in Europe. These waterfalls surge down to Wilhelmshöhe Palace from a large castle in the upper section of the park, which is topped by an imperious bronze statue of Hercules.
One of Europe's most important historical gardens
With its winding paths, magnificent buildings and impressive fountains, Wilhelmshöhe Park is a harmonious blend of architecture and landscape. It started out as a baroque garden, and was later transformed into an English-style country park. A large castle in the upper section of the park is the dominating feature. Its pyramid-shaped tower is crowned by an enormous copper statue of Hercules. Huge cascades of water lead down into the lower section of the park to Wilhelmshöhe Palace with its superb gallery featuring works by old masters.