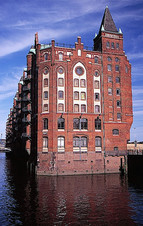 Hamburg's
Speicherstadt
, the largest warehouse complex in the world, is one of the city's most famous landmarks and the main attraction on the great harbour tour. These rows of brick buildings, reaching up to seven storeys in height, house valuable goods from all corners of the world.
Treasure trove of merchant goods
Located to the south of the old quarter, these towering buildings are fine examples of Wilhelminian brick Gothic architecture. They form the world's largest warehouse complex, and their historical fašades are adorned with unusual gables, pointed arches, oriels and little towers. These thick walls provide a safe haven for valuable merchandise such as tobacco, coffee, tea, spices and cocoa – just as they did 100 years ago. The
Speicherstadt
is also the world's largest storage centre for oriental rugs. A number of different museums provide insights into work in the warehouse district, both past and present, with cutting-edge interactive exhibitions.