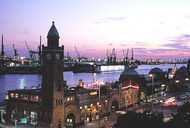 An impressive labyrinth of canals, basins, quays and bridges, Hamburg's port is one of the foremost sea freight centres in the world, and – with its harbour tours, promenade and fish market – it is also the city's number one attraction.
Gateway to the world
The wide blue yonder, fresh sea breezes and the call of distant shores ... Hamburg's port was once the departure point for huge passenger ships destined for faraway lands. Impressive luxury cruise ships still dock here from time to time, but it is now better known as one of the world's leading see freight centres, and the bridge between continental Europe and overseas. Harbour tours start from the
Landungsbrücken
jetties, the arrival and departure points for Hamburg's waterways. A walk along the harbour promenade leads past fish stands and souvenir stalls to the two museum ships Cap San Diego and Rickmer Rickmers. At the end is the fish auction hall, where Hamburg's famous fish market takes place in the early hours of Sunday morning.