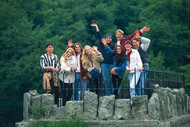 The Teutoburg Forest, the "green backbone" of eastern Westphalia, includes the areas around Höxter, Paderborn, Gütersloh, Lippe, Bielefeld, Herford and the mills region of Minden-Lübbecke. It extends across the north-east corner of North Rhine-Westphalia, between Minden in the north and the Sauerland region in the south, the Münsterland region in the west and the river Weser to the east. It is a delightful region with many cultural and historical associations, known primarily for the famous battle between the Romans under Varus and Arminus (or Hermann), the leader of the Cheruscans.
In the year 9 A.D. the Germanic tribe utterly destroyed three Roman legions and put an end to Roman rule east of the Rhine. The 54 metre high monument to Hermann the Cheruscan near Detmold commemorates the victory. The story of the Saxon duke Widukind or Wittekind, another well-known local historical figure, perfectly illustrates the struggle between the Saxons and the Franks in the eighth century and the conflict-ridden conversion of the region to Christianity.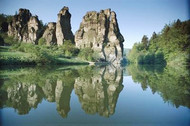 But apart from the Romans and the Teutons others have also left their mark here. In later centuries, burghers built splendid towns, and princes built fairy-tale castles. The impressive farms in the area are evidence of the wealth brought by the fertile soil of this region. It is well worth making an excursion to the former imperial abbey of Corvey, the Saxons' religious, cultural and scientific centre at the end of the first millennium. The Teutoburg Forest region is dotted with extremely interesting monasteries, convents and cathedrals dating back to the Middle Ages. Bishops' residences, numerous churches, abbeys and monasteries are testament to the power of the Church in medieval times. Religion and the Middle Ages in general have also played a central role in the history of the region.
Even without its ideological associations, the massive rock formations of the Externsteine natural monument are hugely impressive. Relics of the Cretaceous period, these rocks are amazing natural features with ancient cultural associations. Generally thought to have once been a Teutonic cult site, there is also evidence that early-Christian worship took place here. Five strangely shaped, grey sandstone crags make up the Externsteine. The chapel, which is carved out of a rock, is a copy of the grotto in Jerusalem where St Helena found Christ's cross.