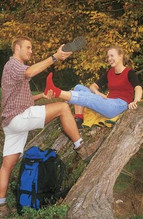 The Hanseatic League is a fascinating topic and the remarkable buildings in ancient towns such as Minden, Herford or Lemgo are reminders of the league's heyday. The region's diverse countryside is home to so many species of flora and fauna that two nature reserves have been established here - the Northern Teutoburg Forest/Wiehengebirge hills and the Southern Teutoburg Forest/Eggegebirge hills. Wherever there is a crack in the earth's crust, springs well up and this has enabled an extraordinary profusion of high-quality spas and health resorts to be established here, the reason why the region is called the "healing garden of Germany".
A large number of themed routes encourage visitors to walk, cycle, play golf, learn interesting facts and take part in cultural activities. The Teutoburg Forest Wellness Cycle Route and the Hermannshöhen walking trail are particularly worthwhile. The Oldendorf observatory is another attraction, where you can look at the stars through the most light-sensitive amateur telescope in Europe. This is also the starting point for a "planets trail", a scale representation of the distances between the planets and the sun, each metre on the footpath corresponding to a million kilometres in space.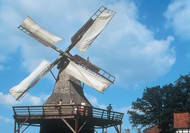 Experience the romance and nostalgia of the mills tradition: a visit to the Minden-Lübbecke Westphalian Mills Region is a way of winding the clock back to the turn of the 20th century when windmills, watermills and treadmills were still used to grind the grain for people's daily bread. Nowadays, milling and baking days held in summer are always popular with both locals and visitors.
Combined tours by pleasure boat, vintage railway or horse-drawn carriage are an ideal way of getting around here, as is "mill hopping" by motor scooter. A quiet spot beneath the sails of a windmill makes a great place to take a break. Explore the region and enjoy the warm hospitality of its people. If you "love to go a-wandering", this is the perfect place for you.