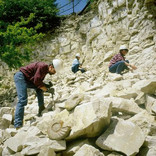 How many places can you visit today where you can experience at first hand such a great variety of geological periods and phenomena going back over 200 million years? Just a few miles south and east of Stuttgart is a veritable "Jurassic Park". It was once home to a number of prehistoric creatures including dinosaurs, real sea monsters measuring up to 18 metres long, giant squid, crocodiles, pterodactyls and colonies of sea lilies. You can see these rare fossils on display at one of the region's fascinating museums, some of which are unmatched anywhere in the world.
The landscape retains a number of valuable prehistoric treasures, such as the medicinal springs that are still used to treat a range of illnesses today. Geologists have compared the area under the Swabian Alb to an underground barrel supplying warm, mineral-rich water from deep below the earth. This spring water is used at the region's extensive health resorts, and thermal and mineral baths.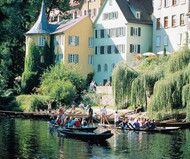 In the Swabian Alb you can get an exciting and fascinating insight into the various stages of geological evolution, from the Triassic Period to the present day. There are also a number of castles, palaces and ruins sitting in splendour on top of the crags and mountains. With names such as Hohenstaufen and Hohenzollern, they are clear evidence of the great imperial houses that originally came from this region, writing both German and European history from here over many centuries.
With its many mountains and valleys, this is a walker's and cyclist's paradise, as well as a great destination for well-being, fitness and relaxation. An area of countryside this unusual simply has to be explored on foot rather than by car. With a wide range of fascinating museums, amazing attractions and first-rate cultural activities, there's something for everyone. And the famous Swabian cuisine with specialities such as the Maultaschen and Spätzle pasta dishes speaks for itself. Are you ready for some Swabian hospitality?