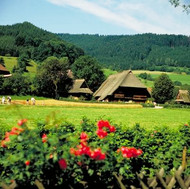 In quaint medieval towns, the signs hanging outside the inns advertise delicious Black Forest specialities. In Gutach, you can visit the Vogtsbauernhof Open-Air Museum, which exhibits the most impressive houses and farm buildings from the region's history. The pom-pom hat, which is part of the local traditional costume originated, in Gutach. The town of Freiburg and the villages of Titisee-Neustadt, Breisach, Elzach and Lörrach are located in the southern Black Forest in an area near the border with France and Switzerland where the region's highest peaks, Feldberg, Kandel, Schauinsland, Belchen and Blauen afford enchanting panoramic views as far as the Alps in Switzerland and the Vosges mountains in France.
Old Black Forest farms with wooden shingles and steep roofs reaching almost to the ground are scattered across the wild and romantic valleys. In keeping with local custom, they serve up bacon with rye bread, washed down with a glass of Kirsch schnapps, to hungry passers-by. And the Kaiserstuhl region with its winding roads, the fine Breisgau and Markgräfler Land vineyards in the southern Black Forest mean that good wine is always in plentiful supply.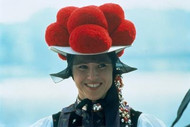 The Upper Black Forest and the Hotzenwald forest, which extends down the south-facing stepped slopes of Mount Feldberg to the Upper Rhine and Lake Constance like so many giant sun terraces, are just as perfect for walking and skiing as the romantic Wiesen Valley that drops steeply to the south. Devotees of water sports will be in their element at Lake Titisee and Lake Schluchsee. Experience the power of nature from close quarters at the Rhine Falls near Schaffhausen where you can watch the waters of the Rhine plunge down more than 20 metres.
The region's colourful past is brought to life in the half-timbered houses and historical buildings, as well as stately homes, castles, ruins, churches and abbeys, Roman baths and museums of its former trading centres, artisan towns, free imperial towns and former royal seats. The Black Forest is one of Germany's oldest holiday regions and has lots more to offer besides Black Forest gateau, cuckoo clocks and ham.