Among the region's most popular visitor attractions are the most colourful show caves in the world, the Saalfeld Fairy Grottoes, where mineral-rich dripping water and spring water have created an enchanting world that is being continuously transformed by nature. The Thuringian Slate Mountains rise up in the south. With glittering blue little towns and villages and the largest reservoirs in Germany, this is a paradise for keen walkers and water sports enthusiasts alike.
In the east are the Thuringian Heath and the Holzland region with its sprawling forests, while to the west are the picturesque rolling hills of the Saale-Ilm plateau. In between lies the delightful Saale valley from which the region takes its name - in particular, the middle Saale valley with its white limestone hills and mild climate. The River Saale itself is a popular destination for rafting tours, water sports and boat trips. History enthusiasts' eyes will light up when they see the Ottonian imperial palace in Memleben, while the Unstrut-Triasland nature reserve has everything an amateur geologist could wish for. This is the site of the ancient town of Nebra, easily recognised by its late-Romanesque castle ruins and famous for its sandstone quarries.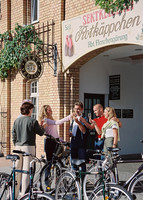 Recently, Nebra and its environs experienced an upsurge in interest with the sensational discovery of the Nebra Sky Disk, a key find in terms of European pre-history, astronomy and religious history. The disk was found on the Mittelberg in Ziegelroda Forest near Wangen, inside circular ramparts where excavations are still being carried out today. Visitors can tour the site accompanied by an expert guide. The place where the Nebra Sky Disk was found is a fascinating site for both history enthusiasts and amateur geologists. This international archaeological sensation is the world's oldest image of the cosmos and provides an interesting insight into people's knowledge of astronomy at that time. The bronze disk is around 3,600 years old.
There's certainly no shortage of things to see and do in the Saale region. Take a trip there with friends and take advantage of one of the many great packages on offer - there really is something for everyone. A warm welcome will always await you!