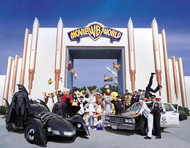 Movie Park in Bottrop with its shows, breathtaking rides and attractions makes for an action-packed fun day out for all the family. 365 days of snow and the ultimate wintersports experience await visitors in the heart of the Ruhr region. Conditions on the world's longest indoor ski slope in the Alpincenter are perfect for an exhilarating time.
When people talk about sport in the Ruhrgebiet, they usually mean football. Nowhere else has so many football clubs in such a small area and nowhere else is the competition between clubs so fierce. If you can get a ticket, you should try and watch a German Bundesliga home game at the Westphalia Stadium or the Schalke Arena. The atmosphere is just awesome. Major events take place in the region virtually every day, such as rock or pop concerts at the Schalke Arena or the Gruga Hall in Essen.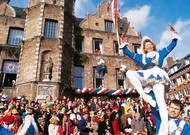 But the highlights of the year are still the annual Ruhr Festival, Crange town fair and of course, carnival time. And when it gets dark, the Ruhr region takes on a special charm all of its own.
Places that once lit up the night with their production processes are now bathed in a more artistic glow. Once, the night sky was set alight by local factories and steel works. Now the industrial backdrop is illuminated by spotlights and spectacular light shows. The result is a captivating night time panorama. The Ruhr region - Germany's biggest adventure park.