Worms, the home of the Nibelungs saga, also has a magnificent cathedral. Luther appeared before the Diet of Worms in 1521. Every October visitors flock to Bad Dürkheim to join the celebrations at the Wurstmarkt, Germany's oldest wine festival. The region's other wine festivals, often including the crowning of a wine queen, also attract large numbers of visitors. Zweibrücken is a town of roses and horses. 90 years of rose cultivation are celebrated at the Rose Garden of Europe, where an approx. 2.5km footpath/cycle path takes visitors around plantings of wild roses, shrub roses and modern varieties.
Germany's smallest state stud and centre of equestrian excellence has been breeding Zweibrücken warmblood horses since 1755. It holds a variety of equestrian events all year round. Just a few kilometres away is Pirmasens, the centre of the German footwear industry and home to German Footwear Technology College and Museum. If you have a sweet tooth, you'll enjoy Pirmasens' "glass" chocolate factory, chocolate museum and shop.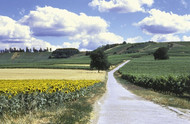 The university town of Kaiserslautern is the region's cultural and economic centre. It acquired its grandeur during the twelfth century as the imperial seat of Emperor Barbarossa. St. James' Pilgrimage Way takes today's visitors to castles, stately homes, abbeys and places of pilgrimage around the Palatinate.
Footpaths and cycle trails skirt the meadows on the banks of the Rhine. They also pass golden cornfields, colourful vegetable plantings, fragrant tobacco plots, flower-filled gardens and vineyards - the perfect invitation to discover the Palatinate's many gourmet delights. The very scenic Kusel area - known as "musicians land" - is also a must. As you would expect in a region where pleasure is so essential to everyday life, local people place great value on art and culture - both of which the Palatinate has in abundance.