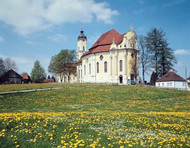 Even today Upper Bavaria's churches and abbeys, castles and palaces, town houses and town halls, Madonnas and crucifixes illustrate the wonderful achievements of famous local woodcarvers, painters and stucco plasterers. To mention just a few examples, the Wieskirche Pilgrimage Church, Ettal Abbey, Andechs Abbey, Nymphenburg Palace, Herrenchiemsee Palace and Linderhof Palace have all profoundly influenced the history and culture of this region.
Although it is the sumptuous baroque style which predominates together with the later, even more fanciful, rococo, there are also notable examples of Romanesque and Gothic architecture. Upper Bavaria is a region of picture-book scenery, healthy fresh air and unspoilt nature. Its numerous lakes, national parks and nature conservation areas are a paradise for holidaymakers and sports fans.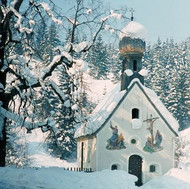 A healthy environment, beneficial springs and a wide range of revitalising packages, events and activities are the attractions at the many renowned spas and health resorts in the region. Continuing a tradition that crossed the Alps with the Romans, Upper Bavaria offers many opportunities for bathing in luxurious surroundings. Modern aqua parks offer elaborate facilities complete with Mediterranean-style beach and palm tree atmosphere.
There is also a wide range of leisure and sports activities on offer all year round. Another very Bavarian pleasure is to enjoy the hearty local cuisine and a litre tankard of beer in one of the many traditional beer gardens.