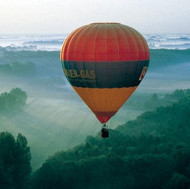 For something a bit different, you can enjoy a bird's eye view of the Münsterland region on an unforgettable hot-air balloon trip or explore the countryside under your own stream in a paddle boat. You'll find boats for hire and guided canoeing tours on offer along the river Ems in Greven, Emsdetten and Rheine.
Discover one of the Münsterland's very special cultural gems at the Steinfurter Bagno, once the pleasure garden of the Count of Bentheim-Steinfurt. The Count created this exotic garden landscape featuring a Chinese palace, Greek temple, small fountain and terraced water cascade right next to his palace.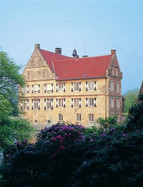 The region is also known for its many traditional festivals. Every town and village has its own Schützenfest fair or funfair. The carnival celebrations in Münsterland almost rival the extravagant proportions of those along the Rhine. Of the many moated castles, palaces and stately homes believed to have once existed in the region, several still dominate the landscape in the Hohe Mark nature reserve. A few beautiful, romantic watermills and windmills also remain. Some of the palaces and manor houses still provide a home to the descendants of local aristocratic families.
One of the most beautiful buildings to be made of the bright yellow sandstone so popular with local architects and sculptors is Schloss Darfeld, an "Italian dream palace" in the vibrant style of the Venetian Renaissance. Explore the Münsterland under your own steam and you'll discover much more about this historical, exciting and visionary region.