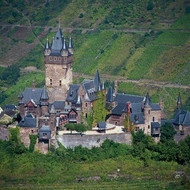 The Moselle countryside is like a fascinating cultural open-air museum. At almost every bend in the river there is a castle dating from the Middle Ages, many of which can still be visited today, including Elz Castle, Pyrmont Castle near Roes, Thurant Castle near Alken, Cochem Castle or Landshut Castle overlooking Bernkastel-Kues, to name but a few. The Moselle also has two younger sisters - the Saar and Ruwer. All three rivers have given their name to Germany's most northerly winegrowing area, the Moselle-Saar-Ruwer region. Along the 243-km course of the German Moselle between Perl on the French/German border and Koblenz, along the Saar between Serrig and Konz and the Ruwer between Riveris and the Ruwer district in Trier, there are around 5,000 vineyards in 125 wine-growing villages cultivating around 70 million vines covering an area of 9,300 hectares.

Spectacular though it might be, this landscape creates especially demanding working conditions for the winegrowers. The best vines are often situated on dangerously steep slopes or in soils with a high slate content. However, that is what gives the wine its characteristic mineral quality.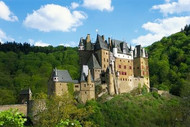 The Saarland region takes its name from the river Saar, which starts off in a broad tranquil valley that becomes narrower after Merzig. The river breaks through the high forest near Mettlach, before twisting and winding its way to the Moselle. One of the most remarkable sights along this stretch of the river is the Saar Bow which runs for seven kilometres near Mettlach. A dominant feature of the valley landscape, orchards are a traditional business in the Saar region.
However, there are also a number of attractions here, including Celtic and Roman fortifications, ancient temples, medieval castles, stately homes, palaces and churches. Whether you are exploring the Moselle-Saar region on Shank's pony, by bike or by boat, you are guaranteed to see some breathtakingly beautiful countryside. You'll also find plenty of cosy taverns and traditional inns (Strausswirtschaften) along the way where you can stop off to sample the exquisite wines and lovingly prepared regional specialities. There's simply so much for visitors to do and see here.