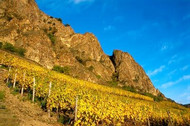 In addition to idyllic small towns, wine-growing villages with a charm all of their own, recreation centres and hiking areas, the Nahe region is most famous for its fine wines and precious stones. Steep cliffs and picturesque villages line the banks of the river from the Hunsrück to the Rhine. Incredibly, there are almost 40 castles and palaces situated on the peaks in the Hunsrück region and along the river Nahe.
A cycling tour through the Nahe valley with its unspoilt forests, lush meadows and vineyard slopes is also well worth the effort. Today, Kyrburg Castle in Kirn is not only famous for its spectacular views, but also for its whisky museum. Other famous hallmarks of the Nahe region include health, fitness and traditional spa resorts. And if you are looking for a really special day out, visit Staudernheim and take a trip by railbike to explore the Glan valley.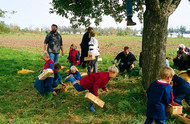 The Glan valley is the ideal place for anglers, walkers and cyclists to experience nature at its best. The river twists and turns its way through the valley, creating a wild and romantic setting. The Glan-Blies Route takes you through virtually unspoilt countryside along the edge of the Heimerbrühl nature conservation area.
Local festivals and culinary weekends are held all year round in the Hunsrück-Nahe region, so there's never a shortage of good food and drink. Visitors should always allow plenty of time to stop off and relax along the way. After all, nothing can compare with seeing these impressive sights with your own eyes.