At the heart of the Franconian Lakes, south of Nuremberg, lie Lake Altmühlsee, Lake Brombachsee and Lake Rothsee. Apart from holidays for the whole family in and on the water, there is a lot of history and culture here – the Limes wall, boundary of the Roman empire, cuts straight through this region's past. Wine from Franconia, in its typical round-bellied Bocksbeutel bottles, is best savoured against the backdrop of Franconian wine-growing country. The hearty fare on offer here also compliments the Franconian wine perfectly.
In many of the region's churches, the sculptor Tilman Riemenschneider has left an artistic legacy. The Hassberge nature reserve is an interplay of green woods and open country, valley floors and peaks up to 500 metres tall, all of which is criss-crossed by ancient hunters' paths, messengers' and trading routes and military roads. Romans, Germanic peoples and Celts all left their mark here in the form of refuges and ramparts. Later history is illustrated by 15 castles and 26 palaces.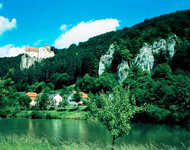 The region known as the charming Tauber valley is characterised by wine growing. It has a magical hold over walkers, nature lovers, cyclists, sporty types, culture lovers and gourmets alike. A tour of the Tauber valley is a tour through Germany's history. Three thousand square kilometres of nature reserve can be found in the Altmühl valley. This region is typified by diversity and natural beauty, with the river Altmühl at its heart and charming tributary valleys leading away into the hills.
Amateur geologists can hunt for fossils in the limestone quarries of the Jura. It was here that a valuable treasure was unearthed: the prehistoric bird archaeopteryx, which lived around 150 million years ago. So no matter how far your feet or bike can carry you, there are a thousand good reasons to look more closely at this corner of the world.