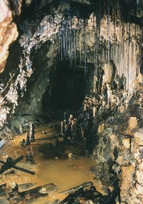 The region's unique wood carving and turning, toy making and lace work traditions used to bring vital commerce to the region and make for a fascinating visit, not just at Christmas time. Traditional craft techniques, unique anywhere in the world, such as Reifendrehen (carving toy animals from wooden hoops) and Spanbäumchen-Stechen (carving wooden trees with intricate curly branches) or passementerie work originate in the Erzgebirge mountains. The over 100 museums cover a great variety of topics and reflect the area's historical development, with impressive displays of skilled craftsmanship and ingenuity.
Most people will be familiar with the charming carved figures like the nutcracker, the smoking man incense burner, the 'angel of light' Christmas decorations and with the pyramids and children's toys which are lovingly crafted here. But the museums also showcase the less well known, such as historic reminders of the area's mining past, of Adam Riese, the influential arithmetician, of organ building, historic railways, of copperwork, old mills and visitor mines, all of which are equally fascinating.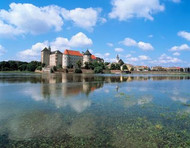 And anywhere craft and technology flourishes, artistic achievement is never far behind. You may have to walk up hill and down dale, but it's a pleasure to visit all the region's castles and palaces, churches, places of myth, legend and enchanting story.
The Erzgebirge mountains form the backdrop for a real fairytale of ice crystals and subzero temperatures. This is a truly romantic winter wonderland, with thick pillows of snow leaving nothing to be desired for snow men, luge lizards, ice angels and ski buffs. In the run-up to Christmas, the whole mountain range shines in a unique light which is typical of the region's inimitable knack of getting Christmas just right. "Good luck!" – is the miner's call used to welcome guests to this, a region like no other.