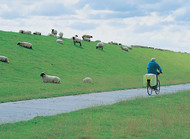 Visitors can explore Cuxhaven's green side by bike, on foot or on horseback. The Wernerwald, with its mix of conifers and deciduous trees, stretches right to the North Sea and surrounds the silent Finkenmoor with its water lilies. And it's well worth visiting the various heaths at any time of year, not just when the flowers are in bloom. Between bright fields of oilseed rape and corn, snug villages shelter ancient farmsteads and historic churches. Golfers can discover the 18-hole golf course on raised sandy heathland in Oxstedt, surrounded by nature's charms.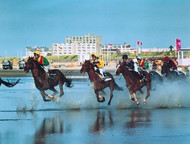 Keen horse riders and tennis players will also enjoy the area, and water sports enthusiasts will find a wide range of activities on offer. Cuxhaven's "Stadium by the sea" is Germany's outstanding facility for beach-based tournaments. A special horse-drawn carriage will take you in comfort through the coastal mudflats to the island of Neuwerk, or you can take a guided walk through the mud flats.
Visitors can also enter Neptune's domain, being 'baptised' by Neptune himself in a fun ritual introduction to the mud flats! Those baptised will receive a certificate - a great experience for young and old. Cuxhaven is also renowned as a spa resort. The sea breeze brings clean air containing mineral salts to the coast, free from allergens and pollution. A stay on the beach or mud flats is literally a huge breath of fresh air!
But that's not all – in this northern centre for sports, there's always something going on. Wind, waves and the North Sea make for a great holiday experience.