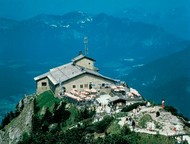 A guided visit into the Schellenberg ice cave is always an experience, however many times you return. This is the only ice cave in Germany that is open to the public, and it is also the country's largest. At 1,570 metres above sea level, the cave consists of a series of galleries in which geodes and giant icicles are displayed, alongside hoar frost formations.
But to really experience the mountainous Berchtesgadener Land region, you need to reach for the top! A trip in a cable car affords the visitor magnificent views over countless mountain peaks in Germany and Austria. The Jenner cable car climbs to an altitude of 1,874 metres, while the Predigtstuhlbahn is Germany's oldest cable car still in operation. The famous Eagle's Nest is also found here, in a true high-alpine setting, with a breathtaking view over the Berchtesgadener and Salzburger Land.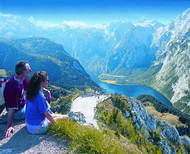 Anyone who travels to Berchtesgadener Land needs to be ready for the pure, fresh air. With wonderful cycle trails in the north and walks and tours in the southern hills, the great thing about this area is the range of activities on offer. Whether you cycle for fun or are an ambitious mountainbiker, whether you are an experienced climber or prefer a leisurely stroll, there's something for you here.
Nature and culture, health and fitness, activity and relaxation are on offer in the Berchtesgadener Land in summer and winter, with inns offering delicious food to sustain you. It really doesn't get better than this.