For the less sports-mad, courses are available in pottery, weaving, wood carving and traditional rustic painting. For people who are interested in winter sports, a wide range are on offer. There are a large number of ski areas of all sizes and skill standards for downhill skiers, snowboarders and cross-country skiers alike. After you've made the most of the slopes our mountain lodge keepers offer a warm welcome and some hearty food in a traditional atmosphere.
If you are interested in art treasures or architectural monuments, you're sure to find plenty of interest. Within the walls of the many medieval towns, which include Dillingen, Donauwörth, Kaufbeuren, Memmingen, Mindelheim and Nördlingen, you can see fascinating evidence of an illustrious past.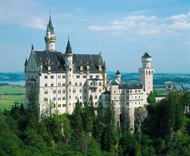 Augsburg is just one example of a cityscape that has evolved over its two-thousand-year history. During the Renaissance, the city was a hub for architecture, music and painting. Augsburg was where Mozart's talents first emerged, Bertold Brecht was born and the world's first diesel motor was built. In the former Celtic and Roman town of Kempten, there is still evidence of the extent and significance of the former Roman settlement – at the Cambodunum archaeology park. Several of the town's well-preserved buildings are also worth a visit, such as the St. Lawrence Basilica, the former prince-abbot's palace, the town hall and the St. Mang Church.
Elsewhere, the royal castles of Neuschwanstein and Hohenschwangau near Füssen and the Ottobeuren Basilica hold a fascination for many visitors. Since 1945, the Basilica built by baroque master builder Johann Michael Fischer has been home to the Ottobeuren concert series. Health-conscious visitors can enjoy getting and keeping fit and healthy in a variety of ways. Many people will visit the region more than once for a holiday, drawn back by the wide range of attractions and great hospitality on offer.