Health Resorts & Spas in Germany
top
Oberstaufen
Where the air sparkles like champagne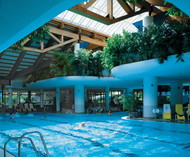 Enjoy a health break at the foot of Mount Hochgrat – Oberstaufen is situated where the Alps meet the highlands and benefits from crystal-clear air and plenty of sunshine. From spring to autumn it enjoys around three times more hours of sun than the low-lying lands. The combination of bright sunshine and mild cool breezes has a stimulating effect, bolstering the immune system and strengthening the body as a whole. Oberstaufen has a number of specialist spas and clinics that can treat a wide range of conditions, including: cardiovascular and circulatory diseases, musculo-skeletal illnesses, respiratory diseases, diseases of the digestive system, metabolic disorders, diseases of the nervous system/psychosomatic conditions, skin diseases and general infirmity. Convalescent care is also offered.
Top of page
Medical facilities

As well as a wide choice of activities, the health resort of Oberstaufen also offers a great range of wellbeing facilities. Schroth health cures have been carried out here for more than 50 years. These classic naturopathic treatments can cure or alleviate a number of illnesses associated with modern-day lifestyles. The local clinics with their trained specialists are available to provide help and support to people as they try to overcome their conditions. In addition, the health treatment centres, both residential and non-residential, offer complementary treatments to help health visitors every step of the way.
Top of page
Map of Germany
Map showing all of Germany's TOP travel destinations...
Click here!
Search in surrounding area