Suggested excursions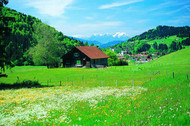 Enjoy the great outdoors all year round in Oberstaufen. As well as fascinating walks, the surrounding region offers a variety of great ideas for days out. There's even lots to do in winter, from relaxing strolls along snow-lined footpaths to cross-country skiing and exhilarating downhill runs on the pistes. Follow the German Alpine Road through scenery reminiscent of The Sound of Music, or head to Ravensburger Spieleland amusement park, where it's simply impossible to be bored!
German Alpine Road
Covering 450 kilometres between Lindau and Berchtesgaden this enchanting route provides a stunning panoramic tour through the snow-capped Bavarian mountains. You'll be amazed by the sheer variety of natural beauty, from lush Alpine meadows, gentle hills and green forests, to craggy mountain peaks, romantic valleys and sparkling lakes. Traditional farming villages alternate with historical towns against the majestic backdrop of the Bavarian Alps, while abbeys, churches, ancient castles and fairytale palaces are ideal for historical forays. The crystal-clear mountain lakes offer not only awe-inspiring views but also a wide choice of sports and leisure activities.
Ravensburger Spieleland amusement park
The fun-packed world of Ravensburger, one of Germany's best-known games manufacturers, is transported from the toystore to the amusement park. Go in search of ghosts and goblins in the winding corridors of the crazy labyrinth, take careful aim with your water cannons on the fire engine ride, or enjoy one of the 30 snail cars. With more than 50 rides and attractions across six themed worlds, it's simply impossible to be bored in Ravensburger Spieleland.
The finest mountain pastures in Germany
The region surrounding Oberstaufen is Germany's largest contiguous area of mountain pastures, and it is absolutely perfect for picturesque, romantic walks. In the southern Allgäu, mountain farming still has an important role to play. Every year, for around 100 days in the summer months, cows, ewes, horses and young livestock are led up to the pastures. where they spend a delightful summer break. Most of the alpine dairy farms are still in use, and the numerous examples found in the Oberstaufen region are ideal stopping-off points where walkers can refuel with some fresh buttermilk and mountain cheese.
Top of page
Map of Germany
Map showing all of Germany's TOP travel destinations...
Click here!
Search in surrounding area