Suggested excursions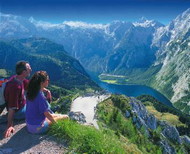 No-one can complain about a lack of places to visit in Berchtesgadener Land. A 360-degree panorama and stunning mountain ranges - what could be more beautiful? From the Jenner plateau you can watch mountain jackdaws or hanggliders and paragliders. You can follow in the footsteps of the famous Austrian Empress Sisi by visiting important places in her life from Wittelsbacher Land via Salzburg to Budapest. Around every corner in the festival city of Salzburg you will come across places of interest relating to the life of the musical genius Wolfgang Amadeus Mozart.
Mount Jenner
High up on Mount Jenner above Lake Königssee in Berchtesgadener Land, you begin to appreciate the magic and adventure of the mountains. The Jenner cable car will put you at the centre of it all. Comfortable two-seater gondolas glide from the valley station at Lake Königssee into bright sunlight, sweeping over dark pine forests and past steep rock faces up to the 1,802 metre high plateau, taking you right to the heart of a magnificent alpine landscape. Alpine roses, edelweiss and gentian blossom on the ridges, together with the hundreds of other extremely rare flowering plants that have established themselves here. Rare golden eagles and ibex, the kings of the mountains, have also found a home here. Black grouse and wood grouse, snow hares and marmots, deer and chamois are also indigenous to the area.
Sisi's Road
The eastern stretch of Sisi's Road, a scenic route which runs for around 800 kilometres from Wittelsbacher Land to Budapest, traces the footsteps of Empress Sisi, the Austrian Empress and later Queen of Hungary, via the places which played a special role in her life. The places of interest include the Mozart city of Augsburg, Unterwittelsbach moated palace in Aichach, Empress Sisi's palace in Possenhofen, the fairytale castle of Neuschwanstein in the town of Füssen, the imperial villa in Bad Ischl, the Wachau valley, the Mozart city of Salzburg, the imperial palace in Vienna, the monument to the Austro-Hungarian Empire in Budapest, Gödöllö Palace and the Lázár equestrian grounds.
Mozart city of Salzburg
Wolfgang Amadeus Mozart was born on 27th January 1756, the seventh child of Leopold Mozart (1719-1787), a chamber musician in the Prince-Archbishop's court in Salzburg, and his wife Anna Maria Walpurga (1720-1778) from St. Gilgen in the state of Salzburg. From an early age it was obvious that Wolfgang Mozart had an extraordinary gift for music. After 1762 began a period of travelling, a time of restlessness which was to take up almost a third of his short life and led him to the most glittering royal courts of his time. You can visit many places associated with this musical genius in the Mozart city of Salzburg including the house where he was born and the house in which he lived.
Top of page
Map of Germany
Map showing all of Germany's TOP travel destinations...
Click here!
Search in surrounding area