Art & culture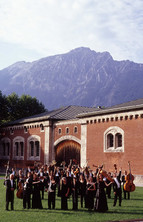 The alpine town of Bad Reichenhall, renowned for its saltwater health treatments, is more than just a spa resort. A varied and colourful history has left its mark everywhere. Visitors from all over the world enjoy what was once solely the reserve of the nobility. Cultural events and spas provide a blend of fun and relaxation against the unchanging backdrop of the alpine peaks.
"Alte Saline" salt works
The "Alte Saline" salt works are nestled at the foot of the idyllically situated Gruttenstein Castle in the historical centre of Bad Reichenhall. Built in 1834 by King Ludwig I they were a notable industrial facility in their time, state-of-the-art and prestigious. The key attraction is the main pump house with the Brunnhauskapelle chapel, a jewel of neo-Romanesque architecture. These fascinating historical works include an integrated salt museum and guided tours – a compelling destination for anyone interested in the history and technology of salt and saltwater.
Gruttenstein Castle
Towering majestically over Bad Reichenhall, this castle was built in 1219 by Ludwig I of Bavaria to safeguard the town and the saltwater springs. Together with the walls encircling the medieval salt-town, it offered protection, particularly during the disputes between the Bavarian Duke and the Archbishop of Salzburg. From the 13th century to 1736, Gruttenstein Castle was the residence of the ducal governor. It then served as barracks for around 100 years, later becoming a poorhouse for the saltworks and finally housing for people working in the saltworks. The rebuilding and extensions that took place in the 15th and 17th centuries gave it its current appearance.
Hohenaschau Castle
Hohenaschau Castle – one of the largest castle complexes in Upper Bavaria - brings the world of kings and knights to life. Though the architecture dates back to the 16th century, the imperious and majestic Hohenaschau Castle seems somehow much older. A castle of such grandeur would have been a fitting residence for the first great noble families. Situated within a rock valley surrounded by magnificent forests and mountains to both sides, its location is truly spectacular, particularly on a day with clear blue skies.
Top of page
Map of Germany
Map showing all of Germany's TOP travel destinations...
Click here!
Hotels in Bad Reichenhall
Search in surrounding area