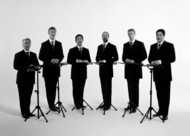 Every May for two and a half weeks, Dresden Music Festival, Germany's most popular classical music festival, captivates international audiences with concerts in the city's finest venues.
Germany's greatest classical music festival
Every year around 100,000 music connoisseurs descend on Dresden. They come to hear distinguished international soloists and ensembles and the finest orchestras in Dresden performing operas, ballets, orchestral works and chamber music, as well as jazz and world music concerts. Events are staged in all the important theatres and concert halls of this city famed for its culture.