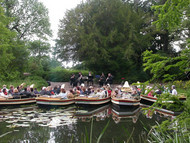 These English-style landscaped gardens provide the perfect setting for this banquet of classical music, which is also accompanied by a host of culinary delights. The concerts are best enjoyed with a fine meal on a gondola on Lake Wörlitz.
A feast for the senses
Designated as a UNESCO World Cultural Heritage Site, the Garden Kingdom of Dessau-Wörlitz provides the ideal backdrop for the "Feast of the Senses" festival, held every year from May to September. Highlights include the Wörlitzer lakeside concerts, where an eclectic mix of chamber music ensembles and soloists present a serene and contemplative musical programme. The performances focus on classical music, which is in perfect harmony with the fine surroundings.