Museums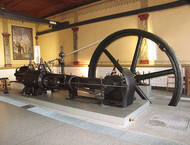 Chemnitz has a fascinating and diverse collection of museums. Whether you're looking for an industrial monument, a mine or a natural history museum, there's something for visitors of all ages and interests.
Saxon Industrial Museum
With its huge exhibition halls, Saxon Industrial Museum in Chemnitz has already taken thousands of visitors on a journey back in time, tracing the course of industrial history right up to the present day. Of special interest is the historically accurate restoration of a machine room, featuring a steam engine from 1896. On certain days, visitors can even travel in the cab of a steam locomotive in the museum's grounds. For guided tours, school activity days and access to the specialist library, please book in advance. The museum is closed on Fridays.
»
Further information
Felsendome Rabenstein visitor mine
The unique underground world of the Felsendome Rabenstein mine was created by centuries of hard work with only simple tools. Today a large part of the mine is open to the public who are captivated by the fascinating mix of history, natural beauty and technology. Visitors can explore grottos, marble chambers and underground domes. If you're feeling adventurous you can also go cave diving in the underground lakes.
Museum of Natural History
The Museum of Natural History was founded in 1868 and is the oldest museum in Chemnitz. Its elegant surroundings house exhibits of both living and fossilised creatures. Here, fossils, gemstones, crystals, specimens of extinct and living species of animals are on display, as well as an insectarium containing live insects. The atrium is the setting for the amazing "fossilized forest" exhibit.
Top of page
Map of Germany
Map showing all of Germany's TOP travel destinations...
Click here!
Search in surrounding area