Other highlights
Contact

Cities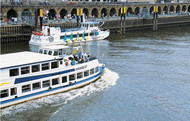 Germany's smallest federal state, in the north of the country, consists of the cities of Bremen and Bremerhaven, where the past comes to life and the future is taking shape. Visitors can look forward to cultural and sporting events all year round.
The Hanseatic city of Bremen sees itself as the "city on the river", the dynamic heart of north-west Germany and the home town of the Bremen Town Musicians from the Grimms' fairy tale. This is a multi-faceted city with a sense of innovation, where different aspects of history, tradition, cutting edge technology, science and space travel come together to form a fascinating whole. Its attractions include the ornate town hall built in the Weser Renaissance style, the Schnoor - Bremen's oldest quarter, the remarkable buildings in quaint little Böttcherstrasse, the cathedral and the impressive statue of Roland on the historical market square.
The seafaring town of Bremerhaven, founded in 1827, stretches along both banks of the river Geeste before its confluence with the Weser. The town, which is still part of the state of Bremen, is dominated by vast port facilities which extend the whole of its length, with the largest single container terminal of its type in Europe at the northern end. The southern part of the port is a fishing harbour where these days about half of the whole German fishing fleet lands its catch.
Top of page
Map of Germany
Map showing all of Germany's TOP travel destinations...
Click here!
Highlights in brief
Bremen
Historical market square, Roland statue, Böttcherstrasse, Schnoor quarter, Space Park visitors' centre, Rhododendron Park, ethnological museum, art gallery, promenade on the banks of the Weser, worlds of discovery
Bremerhaven
Lower Saxony Wattenmeer National Park, Institute for Polar and Marine Research, Atlanticum marine life centre, Marina lighthouse (the smallest bar in Bremerhaven), Phänomenta science centre, Lloyd Werft shipyard visitors' centre, art gallery, museum harbour