Health Resorts & Spas in Germany
top
Medical facilities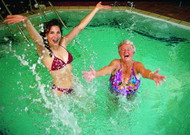 Health treatments specific to Bad Dürkheim include drinking and bathing in the water from the Fronmühl spring (contains sodium chloride) and inhaling water vapour produced from it. Complementary spa therapies include physical therapy in thermal exercise pools. Mud and peat packs, medical baths, physiotherapy, underwater massage, connective tissue and periosteum massage, reflexology and colonic massage, lymphatic drainage, electrotherapy and hot air and ice treatments complete the range available.
Protestant Hospital
A general hospital with the following specialist departments: inner medicine focussing on gastroenterology and cardiology plus intensive medicine, cardiovascular disease, damaged hearing, tinnitus, internal illnesses, psychology, psychosomatic diseases, chronic pain, accident and injury aftercare.
Specialist psychosomatic clinic
Clinic specialising in neuroses, neurotic malfunctions, psychovegetative and/or functional disorders, psychosomatic cardiovascular diseases, psychological malfunctions in connection with cancer.
Top of page
Map of Germany
Map showing all of Germany's TOP travel destinations...
Click here!
Search in surrounding area