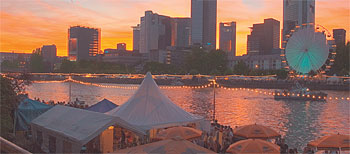 In Germany's most international city, visitors from around the world usually meet Germans for the first time as Frankfurt is home to one of the most important international airports and also to one of the largest trade fair and convention centers. But the city of Goethe offers its guests a lot more than just business. Besides being a modern financial center, it is also a historical city of coronations. Highlights in the Old Town are the Römer, Frankfurt's City Hall, the Cathedral and several outstanding museums that line the banks of the River Main.
Frankfurt Tourist Information:
Tourismus+Congress GmbH
Frankfurt am Main
Kaiserstrasse 56
60329 Frankfurt am Main
Tel.: +49 69 21238800
Fax: +49 69 21237880
Website
More information particularly catered to the needs of travelers with disabilities
including service contacts, accommodation, transportation, restaurants, and much more is provided in an
Online City Guide
by the Frankfurt am Main City Council.
Website