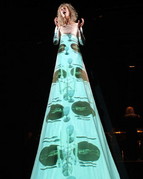 Weimar Arts Festival is the highpoint of the Goethe town's cultural calendar. First and foremost a music festival, it also provides a stage for all kinds of other artists to parade their talents.
A festival for all forms of art
Alongside the music, the festival spotlight also falls on a number of other forms of artistic expression, including theatre, dance, literature, exhibitions, and new media art. In the town's theatres and galleries, artists from around the world parade their talents to a similarly international audience.