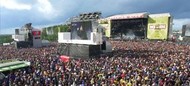 Germany's biggest rock festival is also one of the biggest in Europe. Every year, thousands of young people and adults flock to the Nürburgring for the event. Artists such as INXS and Alanis Morissette have appeared here, and old favourites such as Green Day and The Prodigy also pop up at the Nürburgring fairly regularly.
The legendary festival at the Nürburgring
Held for the first time in 1985, the festival was supposed to be a one-off. However, due to its popularity, the organisers decided to make it an annual event. And the thousands of visitors that travel to the Nürburgring every year with caravans and everything but the kitchen sink prove that, after 20 years, Rock am Ring is as popular as ever with people of all ages.