Art & culture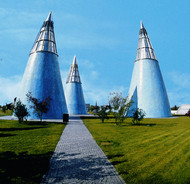 In the area around the Nürburgring there are plenty of opportunities for visitors to enjoy art and culture. With local wine festivals, events during Germany's Summer of Culture and a number of museums in the region, you'll be spoilt for choice.
Museum Mile - Art and Exhibition Hall of the Federal Republic of Germany in Bonn
With its wealth of renowned temporary exhibitions and futuristic rooftop architecture, the Federal Art Gallery in Bonn attracts visitors in their droves. The aim of the museum is to present trends in European and global cultural movements. Visitors can explore exhibitions covering a variety of aspects from fine arts and cultural history to science and technology.
"Horizonte" festival of world culture
This three-day festival of world culture featuring music from all five continents on three different stages is held every summer in Koblenz. Set against the backdrop of the world cultural heritage of the Upper Middle Rhine Valley, the festival presents a wide range of innovative world music at Ehrenbreitstein Fortress. You'll also find a wealth of culinary delights to sample and a bazaar selling goods from all over the world.
Top of page
Hotel search

Looking for an accommodation?
Search and book hotels in Germany »
Map of Germany
Map showing all of Germany's TOP travel destinations...
Click here!
Search in surrounding area