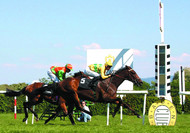 Iffezheim International Racecourse, one of the finest racecourses in Europe, stages international horseracing three times a year, at the "Spring Festival", the "Great Festival Week" and the "Sales & Racing Festival". Go as you are or don a fabulous hat, it doesn't really matter; Baden-Baden's International Horse Races are extra-special events that everyone can enjoy.
A safe bet for fun and excitement
This trio of race meetings make for a memorable experience, just ask the 180,000 people that come every year. Relax, enjoy a flutter, and soak up the festival atmosphere in the elegant surroundings of one of Germany's finest racecourses. Since 2000 Iffezheim Racecourse has also staged Volkswagen's Baden Grand Prix, which is part of the World Series Racing Championship – the Formula 1 of the horseracing world.