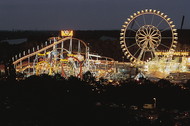 The
Schützenfest
fair in Hannover can rightly claim to be the largest of its kind in the world. For ten days the city's Schützenplatz fairground turns into a huge stage for the festivities – just as it has done since the 17th century.
The world's biggest "Schützenfest" funfair
Visitors to the largest
Schützenfest
fair in the world can expect a festival of superlatives. Electrifying, ultra-modern rides sit happily alongside their more traditional counterparts, and the place is packed with stalls, beer gardens and party marquees. Despite all this, the highlight of this long-established festival is the riflemen's parade, the longest procession in Europe.