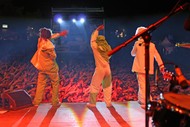 The renowned Splash! festival held on the shores of Oberrabenstein reservoir in Chemnitz has grooved its way to the title of Europe's most popular hip-hop and reggae festival.
Europe's top hip-hop and reggae festival
Hip-hop and reggae fans have long regarded the Splash! festival as an unmissable event, and it's now a fixture in the festival calendar. On two stages and in four marquees, the latest sounds in hip-hop and reggae, along with dancehall, R'n'B, drum and bass and soul, are performed by German and international artists. Bust a groove and feel the festival vibe!