Permanent exhibitions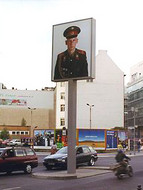 Permanent exhibitions offer fascinating insights into Berlin's history and other specific themes. The Märkisches Museum tells the story of Berlin from the Middle Ages to the present day. At the legendary Checkpoint Charlie is the Wall Museum with exhibitions on Berlin's history.
Märkisches Museum
The permanent exhibition "…schaut auf diese Stadt!" (look at this city!) chronicles the history and cultural history of Berlin from the Middle Ages to the present day. Other exhibitions explore middle-class Berlin, the Enlightenment, modern art, Berlin during the Nazi era and Berlin as a city divided and a city reunited.
"Haus am Checkpoint Charlie" Museum
Established in 1962 next to the legendary Checkpoint Charlie border crossing, this is an exhibition on the history of the Berlin Wall and the partition of the city. It contains original items used in underground, overground and even airborne attempts to flee East Germany. There are also exhibitions on Berlin's history and on the international non-violent fight for human rights.
Jewish Museum
Europe's largest Jewish museum. In Daniel Libeskind's spectacular new museum building, shaped like an exploded star of St. David, this remarkable permanent exhibition documents the highs and lows of German-Jewish history from the Roman age to the present day.
Top of page
Hotel search

Looking for an accommodation?
Search and book hotels in Germany »
Map of Germany
Map showing all of Germany's TOP travel destinations...
Click here!
Search in surrounding area