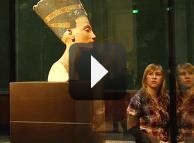 After German reunification the Friedrichstrasse was revitalised and its gleaming new architecture is resplendent in an area that was once part of East Germany. A cosmopolitan air and international goods, all reminiscent of Fifth Avenue in New York.
A world of chic in Berlin Mitte
Stylish cafes, elegant boutiques, upmarket designer stores and the Friedrichstadtpassagen shopping mall – window shopping here is a unique experience. There is a touch of France about the extravagant architecture of Galeries Lafayette. At one time the Berlin Wall's "Checkpoint Charlie" divided the Friedrichstrasse between East and West – today it is a shopping extravaganza.