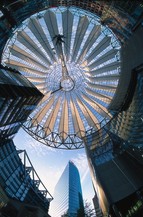 Potsdamer Platz, the new centre of Berlin, is a vibrant and colourful square. Its magnificent state-of-the-art architecture is home an amazing mix of restaurants, shopping arcades, theatres and cinemas. With its light-filled, marquee-shaped roof, the Sony Center is a spectacular building and looks fantastic when illuminated at night.
East meets West
Once a no-man's land between East and West Berlin, Potsdamer Platz is now one of the largest construction projects in Europe. With awe-inspiring buildings by renowned architects it forms the new heart of Berlin. Highlights are the Sony Center, Daimler City and Berlin's
Hauptbahnhof
, the largest railway junction in Europe. Around the clock, people are working, shopping, unwinding or letting their hair down. The square is also the setting for the Berlinale international film festival, attended by famous movie stars and directors.