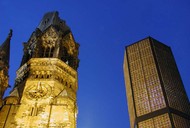 The ruins of the Memorial Church, which was destroyed during the Second World War, are a symbol of how West Berlin rose up from the rubble of post-war Germany. Instead of pulling the ruins down, they were left as a stark reminder of the senseless destruction of war.
Memorial to peace and reconciliation
In 1890 Kaiser Wilhelm II ordered the construction of the Memorial Church in honour of his grandfather Kaiser Wilhelm I. It was destroyed in a Second World War bombing raid, and since then has stood as a tribute to peace and reconciliation. Instead of pulling the church ruins down, the bombed out torso of the tower was integrated into the new building that was built around it. Known as the "hollow tooth", it is the symbol of Berlin's determination to rebuild after the war.